Description
The Robo External Body Armor/Bulletproof Vest (IIIA):
Specifically designed to meet the defense needs of the 21st century, the Robo Vest is an external Bulletproof Vest that can also be worn concealed under the cloth. The Robo Vest is a level IIIA protection bulletproof vest. Manufactured with 24 layers of Goldflex, the Hagor Robo Vest is made to withstand handgun rounds, shotgun rounds, and shrapnel.  It can be easily upgraded to level III+ or IV to withstand most Rifle rounds as well. The Robo Body Armor Vest also features a pocket for an Anti-stabbing and Anti-trauma panel. The Robo Vest comes with a carry bag worth $25.
With a newer, slimmer design, the Robo Vest is not as cumbersome or heavy as its predecessors so that you can maneuver more easily while on duty or on the move.  The Hagor Robo Vest is manufactured under both NIJ and ISO 9001:2000 international standards so you know that your vest is getting the highest quality in ballistics testing, leaving you feeling safe while on duty or in a high-risk area.
Protects against most handgun threats:
(.40 S&W FMJ, .22 LR, .38 ACP, .45 ACP, 9 mm, .357 Magnum, .357 SIG, .44 Magnum, 12 ga. Shotgun rounds, Shrapnel, Knife slashing)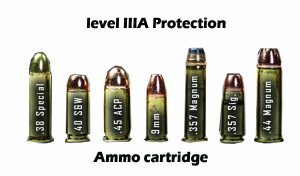 Robo Vest Includes:
BulletProof Vest with IIIA Protection Back, Sides, and front
BulletProof Vest Carry Bag worth $25.00